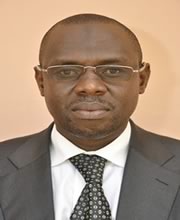 Assoc. Professor   Muhammed    Ngoma
The Faculty of Graduate Studies and Research (FGSR) congratulates you on your successful enrollment into the Makerere University Business School and wishes you a very warm welcome. The school is not only the oldest Business School in Uganda but has also forged a global reputation of being the premier research Business School in Uganda.
I believe you have chosen to pursue a degree program which will be of great benefit to your career and also enable you to contribute to the society in which you serve. With this enrollment, you have undertaken a responsibility to ensure that you will succeed both at a personal and professional level.
Success at the postgraduate level is no easy task. A lot of commitment and sometimes
sacrifices are needed in order to overcome the inevitable challenges posed by
this academic pursuit. This is where a lot of patience and maturity is required of all candidates. Your supervisor and your lecturers will be available to assist you through this journey. Do ensure that you are in constant communication with them to facilitate your progress.
One of the ways candidates can experience a smooth progression in the postgraduate pursuit is to really be aware of and to understand the rules governing the process. I would like to take this opportunity to remind all candidates to find out and strictly adhere to the University rules and regulations. All guidelines and regulations pertaining to your studies are provided in this handbook. I believe that this handbook will be a useful reference throughout your course of study.
Finally, on behalf of Faculty of Graduate Studies and Research, I wish you every success and an enjoyable stay at Makerere University Business School.